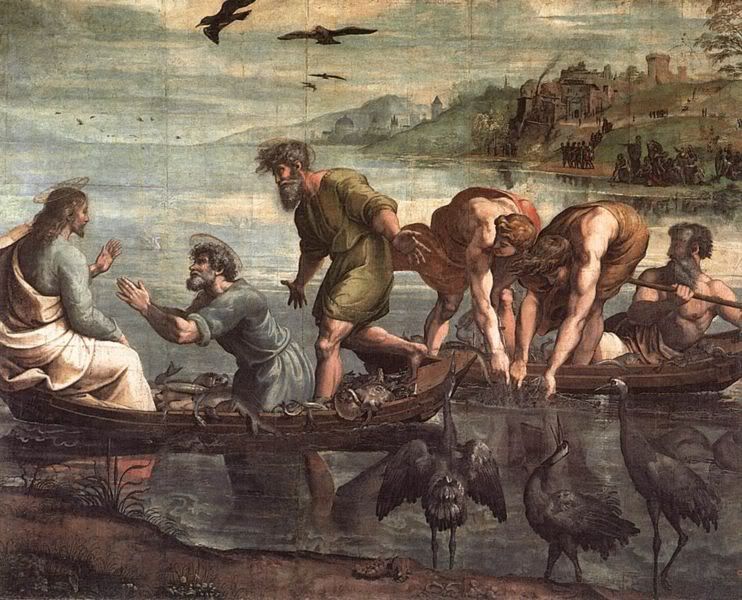 In yesterday's gospel, (Jn 21:1-19 ) Jesus appears to the disciples and tells them to cast their nets off the right side of the boat after a night of catching no fish. They catch so many fish (157) they can't pull up the nets.
Then Jesus asks Simon Peter if he loves Him with an all consuming (Agape) love. (This meaning is lost in the English translation but preserved in the Greek.)
Peter, in effect, says, No, Lord, I love you like a brother or a very good friend (Philios).
Perhaps a bit oddly, Jesus then says, "Feed my sheep."
Jesus asks Peter again, Do you love me with an all consuming love? Peter says, I love you like a brother. Jesus again says, "Feed my lambs."
Only then does Jesus meet Peter where he is and ask, Simon, do you love me like a brother? Peter is insulted and hurt at this change and says, "Lord, you know that I love you like a brother!" Jesus again says, "Feed my sheep."
First of all, Peter readily admits to Christ that he is just not "there" yet. (How many of us could do the same?) He doesn't love Jesus with an all consuming love and he admits it. Jesus, surprisingly enough, nevertheless keeps His promise to appoint him as shepherd of His flock. Perhaps that is what humbles Peter the most.
Peter is taken back to his early days with Christ--to another time when Jesus caused a miraculous number of fish to be caught. (Luke 5:1-11) It was the time of Peter's own calling. When Peter (then Simon) saw the miracle Jesus performed, he said, "Go away from me, Lord, for I am a sinful man!"
This time, Jesus again calls Peter by his birth name, Simon, as a reminder to him of his original calling. Once again, Peter is hit with the enormity of his sinfulness.
Jesus calls him anyway.
How humbling this is! Perhaps we are being asked, by Christ, to remember Who is in charge of the Church. Not us. Not the priests. Not the bishops. Not even the Pope. Peter, the first pope, admitted to Christ, after witnessing countless miracles, including the resurrection itself, that he was only capable of loving Jesus like a brother. Nevertheless, Jesus commanded Him, "Feed My sheep."
The only One we can and should rely on in this life, is Our Lord. It is He who is the head of the Church and we are continually reminded of that fact every time we read a news story of the enormity of our own failings.