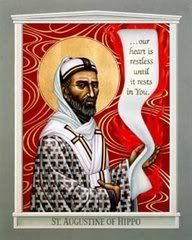 I wanted to say a bit about my new blog:
The Apostolate of Saint Augustine
.
Saint Augustine was born in Algeria around 354. He was raised a Christian by his mother, Saint Monica. Augustine left the faith and fathered a child out of wedlock. Monica never ceased praying for him. Finally, he reverted back to Christianity and wrote the classic book now called, "The Confessions of Saint Augustine," detailing his conversion experience.
I began the blog as a place of prayer and support for all those who are grieving for a loved one who has lost their faith. I have a link there to a "room" of online votive candles for you to light for your intentions, a link to the Holy Spirit Adoration Sisters in Philadelphia, who will pray for your intentions in front of the Blessed Sacrament, as well as a link to the complete text of The Confessions of Saint Augustine.
I try to post reminders, prayers and encouragement for those who are praying for their loved ones.
Please consider stopping by and taking a minute to pray for all those who have no faith.