T
here are times in our lives when we feel alone. This often happens around this time of year, as the days grow shorter and colder, and we begin to feel pressure to "be the holidays" for everyone in our lives. It can happen as we grow older and people in our lives change, move, or pass away.
I'm convinced that sometimes, Our Lord
calls
us to be alone. Sometimes He may take the people in our lives away from us, or take us away from them, for a time, to draw our attention to Him. He may rearrange our lives for us when we resist doing it ourselves.
There is nothing to fear from being alone; alone with our God and Creator.
Cultivate that aloneness. It is prayer. It is communion with Our Lord.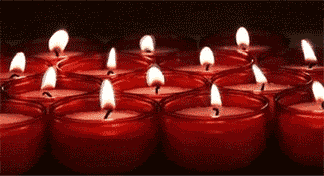 Light a candle. Light several candles. Use incense and music.
If you do not have access to meditative music, one resource is
Pandora Radio
. It is free radio where you can program your own musical tastes. Once you get an account, type in something like "Gregorian Chant" and enjoy being transported to another world.
Ask Our Lord to be with you in this season of increasing worldly darkness and surround you with His light.