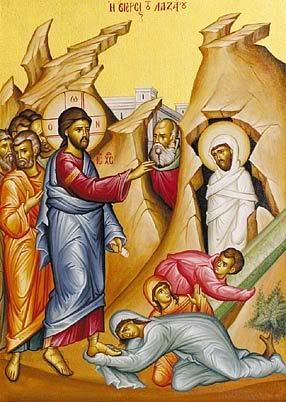 Today's gospel reading is the raising of Lazarus from the dead.
St. Barbara Greek Orthodox Church
tells us that in this story, Jesus is shown as both God and man. His divinity is shown by his raising Lazarus from the dead and his humanity by his weeping at the death of his friend.
The raising of Lazarus gives us hope in some very real ways. Lazarus was a human. Lazarus, doubtless, sinned. But Jesus nevertheless, raised him from the dead and Jesus, our God, wept for him.
Today's psalm (27) tells us to
"wait for the Lord with courage. Be stouthearted and wait for the Lord."
Hat tip to
Vivificat
for the link.