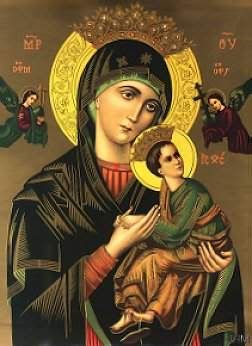 I have an increasing devotion to Our Lady of Perpetual Help. The picture shows Mary comforting the Baby Jesus as 2 angels show them the instruments with which he will be tortured and die. It has been said that you can see the sorrow and suffering in her eyes.
Our Lady is our constant help and our ever-present Mother in times of trouble and in times of joy. I was given a statue of Our Lady of Perpetual Help and I have her sitting on my desk where I pay bills. It is my way of offering up all my financial worries to her and her son. Another icon picture of OLPH sits next to my telephone in my computer room as I type this.
The world can be a confusing and scary place at times. Jesus through Mary is the one thing we can all count on.